I came across a recipe for oatmeal breakfast clafoutis. I had never heard of such a thing. I saw the ingredients and had to try it. I'm always game for make-ahead dishes.


So what on earth is a clafoutis? That was step #1. Wiki says it is is a baked French dessert of black cherries arranged in a buttered dish and covered with a thick flan-like batter. The clafoutis is dusted with powdered sugar and served lukewarm. The clafoutis comes from the Limousin region of France and while black cherries are traditional there are numerous variations using other fruits including red cherries, plums, prunes, apples, cranberries or blackberries. When other kinds of fruit are used instead of cherries, the dish is properly called a flaugnarde. The dish's name derives from from the verb clafir, meaning "to fill" (implied: "the batter with cherries"). 


Ah. Problem solved I know know what it is. Technically the recipe was NOT for a clafoutis (since it wasn't for cherries), it's a flaugnarde. So now we're at a Oatmeal Breakfast Flaugnarde. Now a flaugnarde is like a fluffy pancake. Recipes all call for flower.So what if we take out flower and put in oatmeal? Doesn't resemble a flaugnarde too much anymore. 


That's why I have renamed them simply Oatmeal Breakfast Bars or OB Bars for short: not to be confused with Obi Bars which I am sure are way different (sorry nerd slip there). I'll be making these again for sure. Also you can use other fruit besides bananas. In that case, simply add them on top of the mixture you pour into the pan. They will sink but float again once baked. 
Oatmeal Breakfast Bars
 or 
OB Bars
2-1/2 C old fashioned oats, uncooked 
 3/4 C dried fruit (cherries, cranberries, blueberries, raisins)
1/3 C flaked coconut (optional)
1-2 bananas, roughly mashed
   1/3 C nuts, chopped (these are optional and any nut/nut combo will work)
_____________________________________________
1. Preheat your oven to 350°F. Lightly oil/spray an 9″x13″ inch baking dish.
2. In a large bowl, combine oats, sugar, dried fruit, chopped nuts, cinnamon and salt. Mix well. 
3. In a medium bowl, combine the milk, eggs and vanilla. Mix well. 
4. Add this to the dry ingredients, and mix until well blended.
5. Mix in banana until blended.
6. Pour the mixture into the baking dish making sure the solids are more or less evenly spread out. 
7. Bake for 55-65 minutes, until the center is firm to 
the
 touch. 
8. Once slightly cooled, you can serve or wait until completely cooled and prepare for freezing.
9. FREEZER INSTRUCTIONS: wrap each bar individually with as little air as possible. Servings can go from freezer to fridge at night and be thrown into the microwave for 30 seconds in the morning for a warm oatmeal breakfast bar!
Original recipe by Quaker Oats.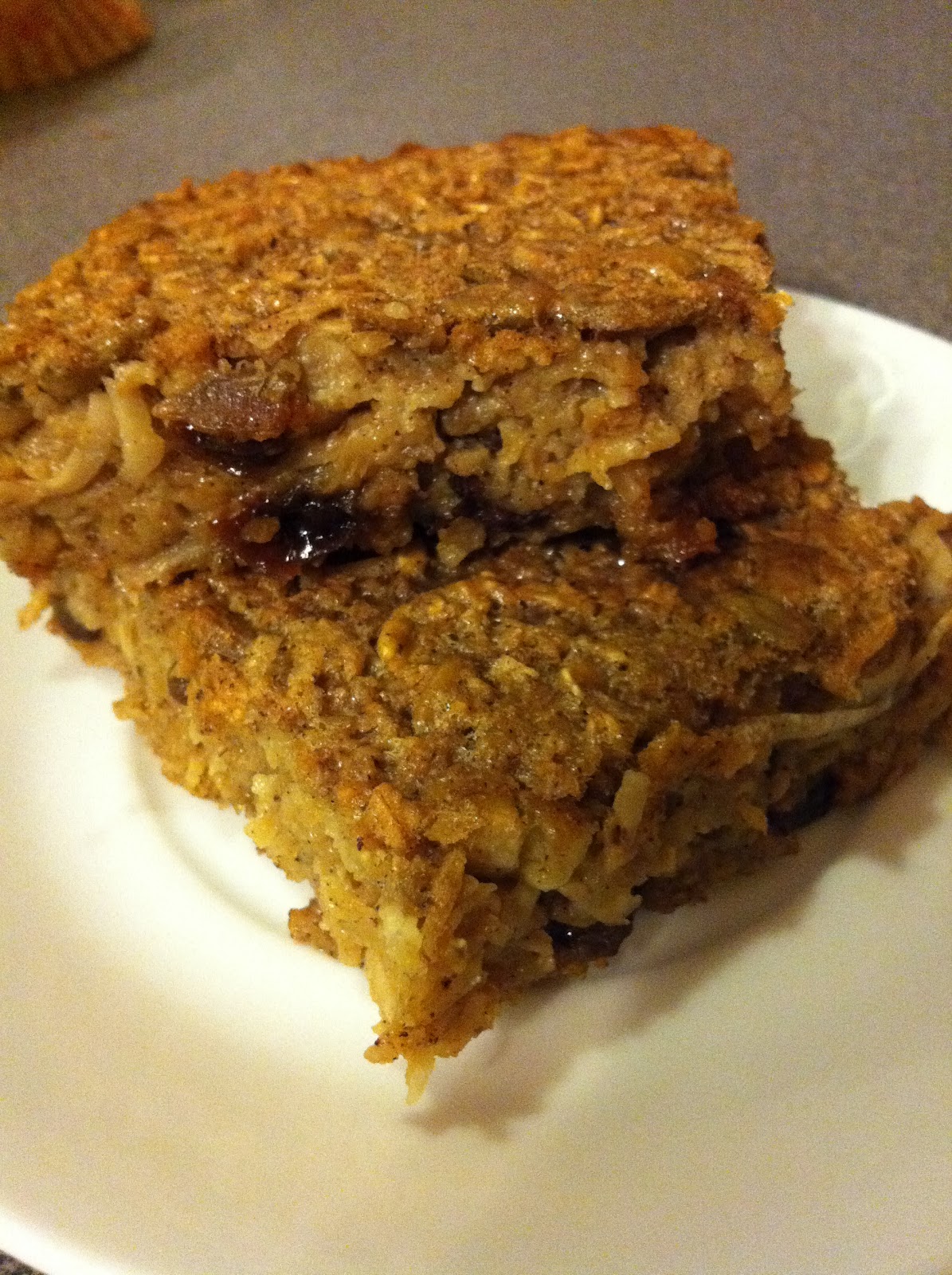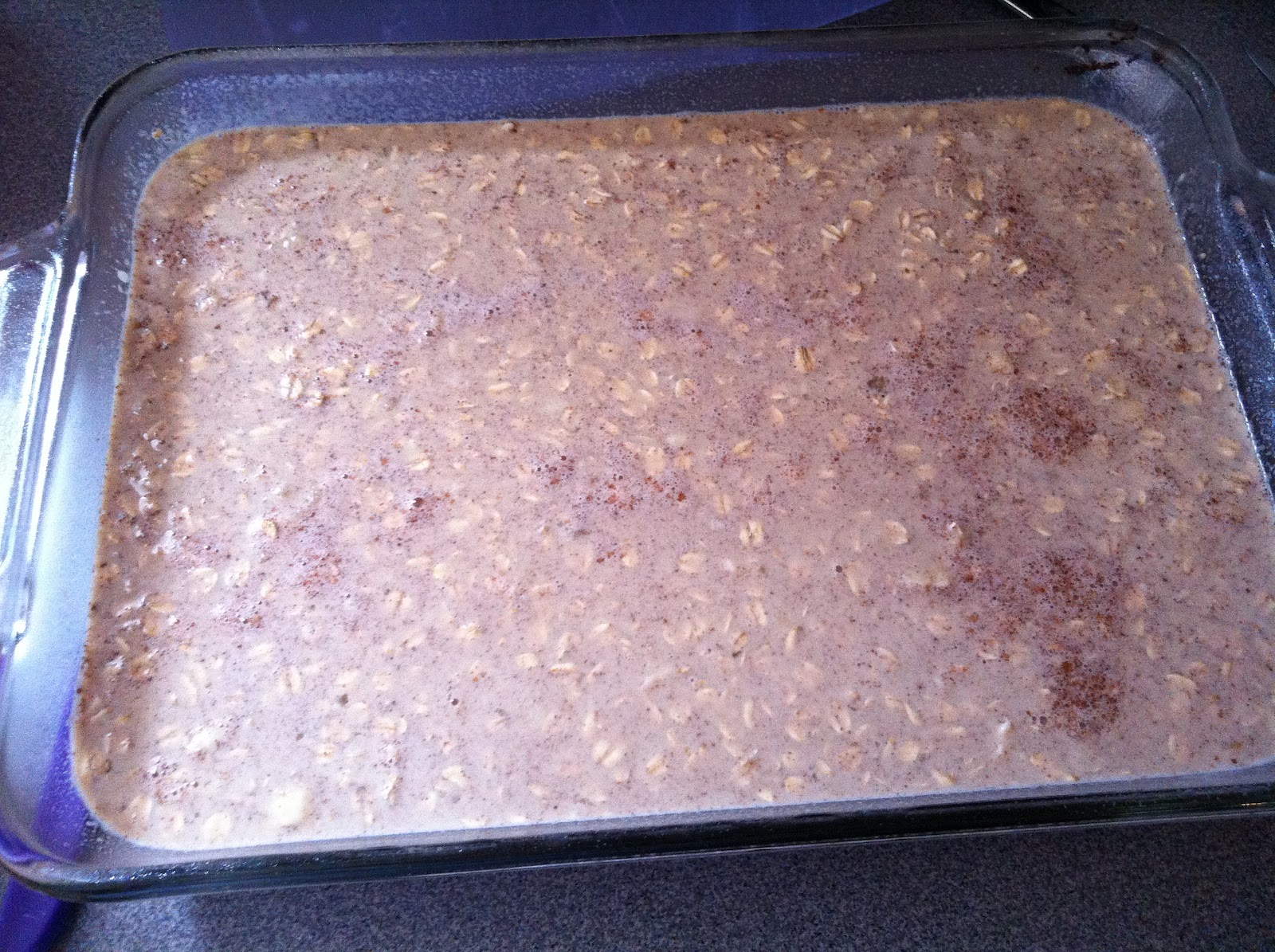 Pre-Baking
After baking. Fresh out of the oven.
ETA/UPDATE: I made another batch today. Made with 2 bananas, and diced dried apricots. Oh, yum! Greta by itself and amazing hot with a scoop of vanilla ice cream on top 🙂 Just sayin'.