I am blessed to have been given the talent of baking and cooking. I can make just about anything taste good and be able to create my own recipes with amazing results. I know my stuff is good so when someone wants to make sure I know it's really good, they go over the top trying to explain it. This is THAT recipe! My Dad couldn't get my to see how amazing this was. "I mean, REALLY, REALLY good. Like REALLY!" The idea for this recipe came from Baked in the South. I saw it and knew I would make it but change a bunch of things to make it very suitable for us. When you change 8 things, it stops being the same recipe. So here is MY Taco Chili that I promise, you wont be sorry you tried! Have I mentioned yet you can assemble this ahead of time, freeze it, and have it ready to throw in the slow cooker at a later date? Perfect for this house! We topped the kids' with low-fat shredded cheese & low-fat sour cream and served a huge bowl of tortilla chips in the scoop shape in a bowl and they devoured it all! Tom & I used minimal low-fat cheese and fat-free sour cream. This is very lifestyle friendly and meat can be left out or subbed out for a vegan alternative.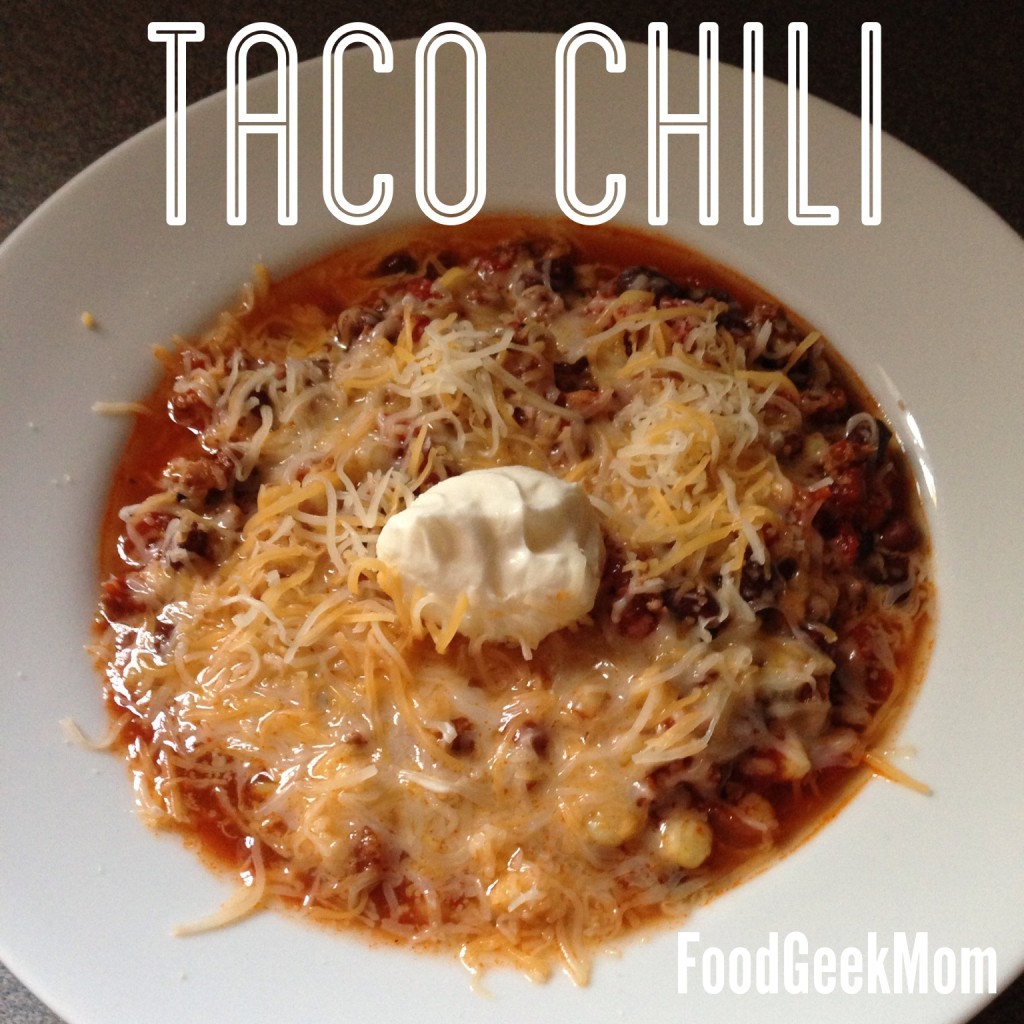 Taco Chili
2013-05-28 14:19:50
A freeze ahead, easy, super crowd-pleasing meal!
Ingredients
1-1/2 pounds lean (93%) ground beef
1-1/2 cups chopped onions
1 bag of frozen corn (~14 ounces)
2 cans of black beans, rinsed & drained
1 can of kidney beans, rinsed & drained
1 cup of tomato sauce*
1 24-ounce can of peeled tomatoes, squished (use the sauce too)**
1 can of diced tomatoes with green chilies (10-ounce can)
1 packet of taco seasoning (or 3T of your own homemade version)
Instructions
brown the ground beef & drain off any fat.
add all ingredients to a freezer bag.
freeze until ready to use
thaw slightly (either in fridge or in defrost mode in microwave)
add to the show cooker & cook on low for 5-6 hours.
serve as is or top with cheese, sour cream, and with chips like tortilla scoops of Fritos.
Notes
* I used 1 cup of jarred sauce but you can just as easily use 1 can of tomato sauce.
** I just simply take each tomato and crush it with my hand and drop it in the bag. This is a good way to slightly break it down enough to not have massive chunks but not have pieces too small. You can also use 3 cans of diced tomatoes.
Food Geek Mom http://www.foodgeekmom.com/