I am so far behind with posts due to track out, snow days, PTA stuff, and now being sick. I did however finally get my party pictures together. One of these days I'll get a someone to take pictures instead of me trying to run party events AND take pictures which never quite works out. Feel free to ask questions, make posts, and pin away!
The kids had a BLAST! We started off with the kids just playing and getting acclimated to my house. They are all friends in the same class so they were used to each other. Moms left numbers and then they were gone and we were left with 9 boys. Oddly, it was no more crazy than it typically is in the Edwards home. While they were waiting, they could make their own nunchucks which I will talk about under activities: just think of empty toilet paper rolls and ribbon. I decorated the main party table and wall. The party table also had a homemade sewer lid. Everyone loved it. I got that idea from here but I just used gray spray paint over the dull side of the foil and then used a cotton swab & gray paint super quick over the recesses and that was it.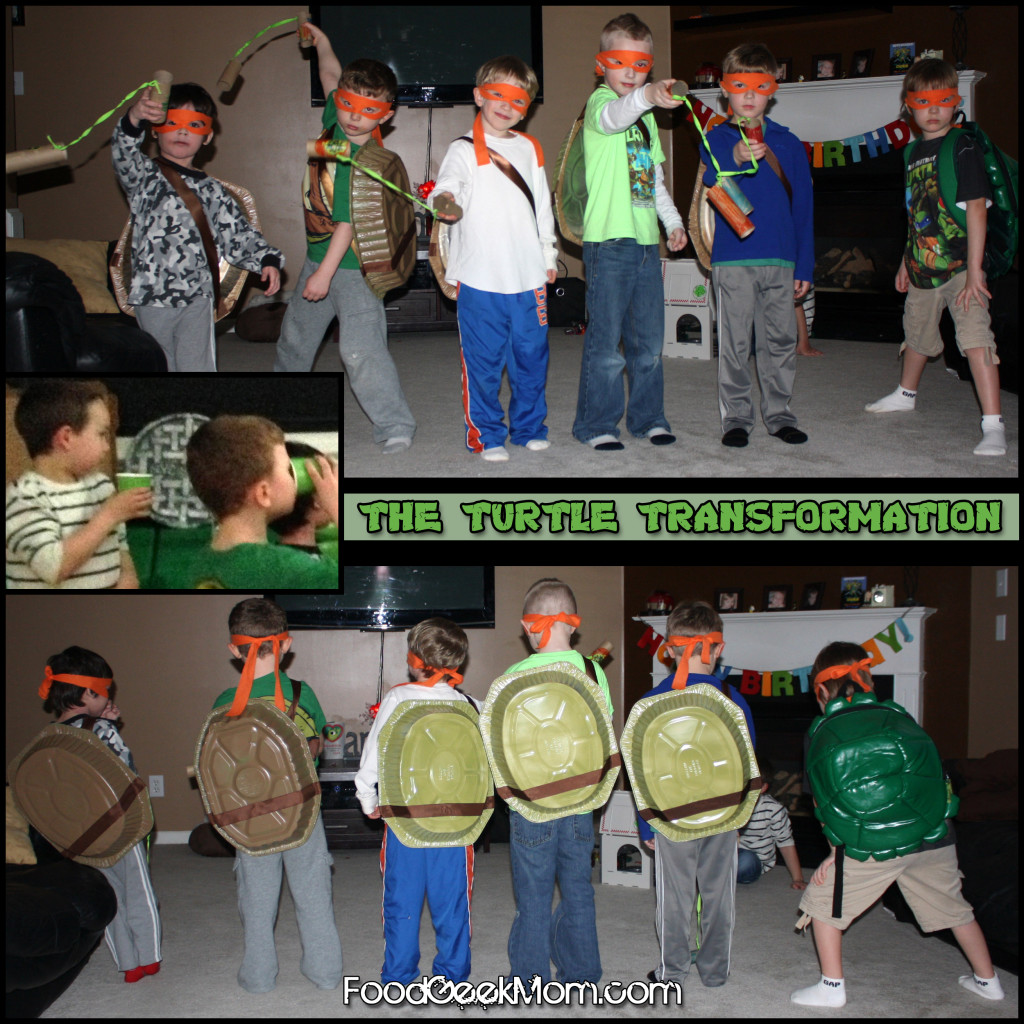 The 1st thing that happened once they were ready was the turtle transformation. I labeled a bottle of Mello Yello with "Mutating Toxic Ooze Soda." Each kid had half a cup of the glowy soda and then they were handed their shells & masks because they mutated into ninja turtles!
The shells were roasting pans from the dollar store. They were sprayed with spray paint (just the regular cheap kind in the 2 colors Owen found most fitting). They got 2 coats. Then I used inche and half ribbon in brown for the shells. I used hot glue and attached the back ribbon. Then a separate ribbon was used to be hot glued going diagonal across the chest. They just had to slide them over their heads with 1 arm through. They stayed on perfectly and the kids went nuts all night with them and no one found them annoying. Score!
The masks were made from a yard of really soft orange fleece (Owen said they should all be Mikey, his favorite). I played around with 1 mask and kept cutting and adjusting until it was comfy and fit nice on middle son. Then I traced the finalized mask onto oak tag and cut it out. That was now my stencil. The kids kept them on the whole time and said how comfy & soft they were. Another Score!
As for food, we had plenty! We had little jugs in TMNT colors. We had Shredder's Potato Shreds, Raph's Rice Krispy Treats, Leo's Laffy Taffy, Mikey's Munch Mix, & Donnie's Doughnuts. I made lots of labels. A big container of potato sticks became Shredder's Potato Shreds. I made rice krispy treats and used fruit-by-the-foot to make Raph's red mask on each one (I cut out the eyes with a new exacto blade). They even had the ties on the back! I individually wrapped each treat and labeled them: Raph's Rice Krispy Treats. I bought a whole bunch of blue raspberry Laffy Taffy from Five Below (so I could buy only blue ones) and unwrapped all them, put 3 to a cell bag, and labelled each bag: Leo's Laffy Taffy. I made Mikey's Munch Mix with Rice Chex, white chocolate & corn syrup. It is colored with flavored jello (orange & green just like Mikey). It's sort of like a muddy buddy mix but with a severe nut allergy in our group, I made this safe mix with sounds kinda yicky, but was awesome! I'll be making it again in other flavors real soon. They were bagged up, sealed, and labelled. Finally, I was planning on making doughnuts from scratch but as always I ran out of time. I wanted all the food fresh but there was only so much I could do (keep in mind the whole morning of the party we had basketball – left house at 8:30 am and games were until 2:30 and party started at 4). Anyway, I bought fresh plain doughnuts and made a purple glaze at home and glazed each doughnut. Homemade touch on store bought donuts. 🙂 Put on a foil lined pan with a tent card: Donnie's Doughnuts. Dinner arrived at 5:00 which was pizza of course (Little Caesar's).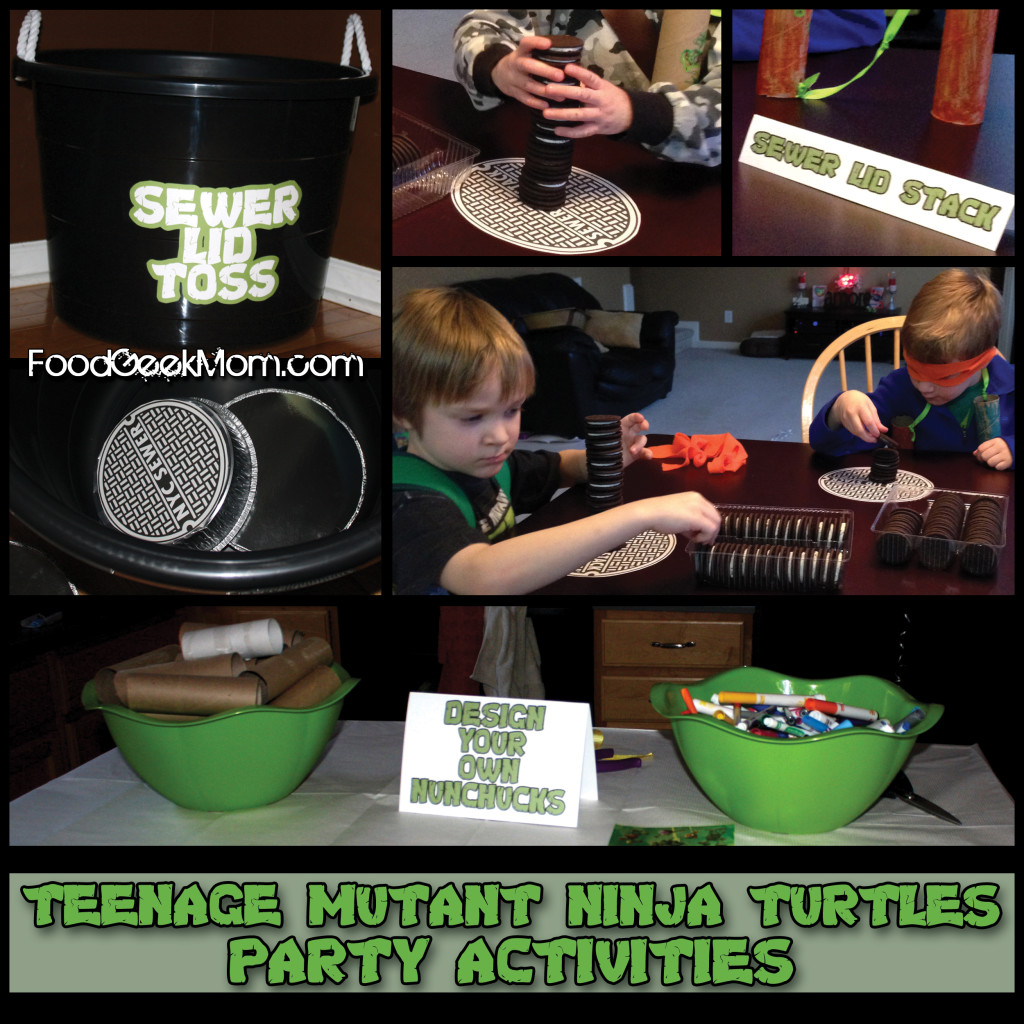 We had plenty of activities planned. Before the transformation, kids went to the Design Your Own Nunchucks station. They each took 2 paper rolls and colored then and/or used stickers. Once they were done, they handed them to me and i used a hole punch to make a hole on each one. I then knotted ribbon and tied it to each roll. I learned a dab of hot glue in each knot kept the knots in place (we had nots coming undone before this trick). After transforming, the kids had to Defeat Foot Soldiers. I bought a bunch of black star mylar balloons from the dollar store. We tied each one to a Little Jug. We had them all hidden until it was time to fight. We set up a weighted ballon every 2 feet and let the kids go nuts! They used t heir nunchucks, punched, kicked, and fought with those balloons. The Foot Soldier was defeated when it was either (a) broken/split -or – (b) The balloon got banged off it's weight (either with our without the string attached). They had so much fun and it worked awesome!
After pizza, we were non-stop! We played games for prizes. First game was Sewer Lid Toss. Using a big tub (bought at Walmart for under 5 bucks) the kids took turns seeing who could throw the most sewer lids (foil containers with sewer lids glued on the bottom) into the bucket. 2 kids tied and they had a "throw off" until 1 kid won. He got to pick his prize first and chose the 2-pack of mini TMNT frisbees. Second game was Sewer Lid Stack. Kids stacked oreos as high as they could. The highest number before it fell would win. Owen actually won this one with 15 before it fell (#16 made it fall). He didnt pick his prize yet though. The last game was Musical Lids. We had paper lids on the floor and did it musical chair style. Owen actually won this too but he gave the runner-up his prize (since he won something else). This child chose a TMNT metal bank. Owen was happily left with a TMNT puzzle. Then we were onto our pinata alternative.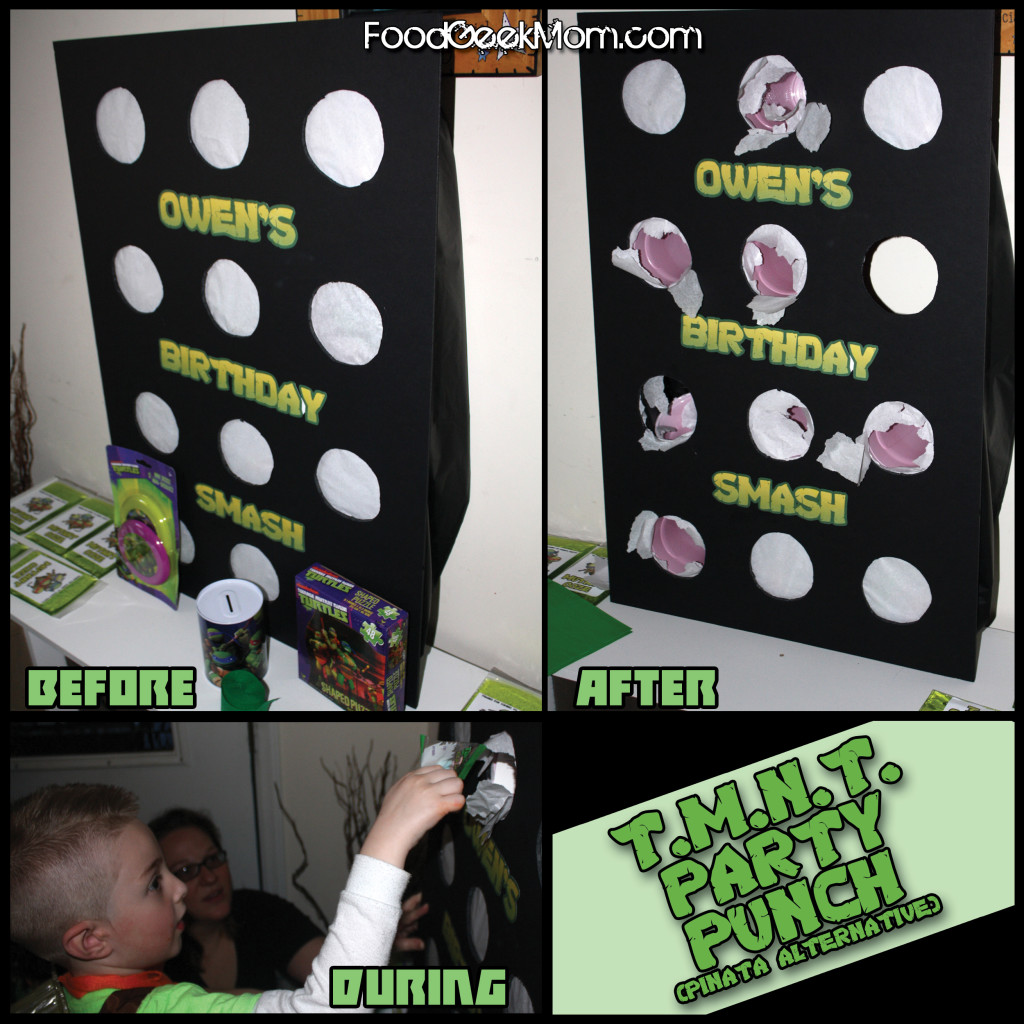 Instead of a pinata, I opted for something different. I made a party punch. I used black foam board, tissue paper, solo cups and hot glue. I put prizes in each cup (not all cups had the same things so it was more exciting) consisting of; TMNT fruit snacks, TMNT bracelets, TMNT disc shooters, TMNT tattoos, lollipops, & glow sticks. I put numbered paper in a bowl and each kid grabbed a piece of paper. They then lined up on that order (1-9). Each kid punched 1 spot and put their goodies in a green goody bag with their name. The kids loved this idea!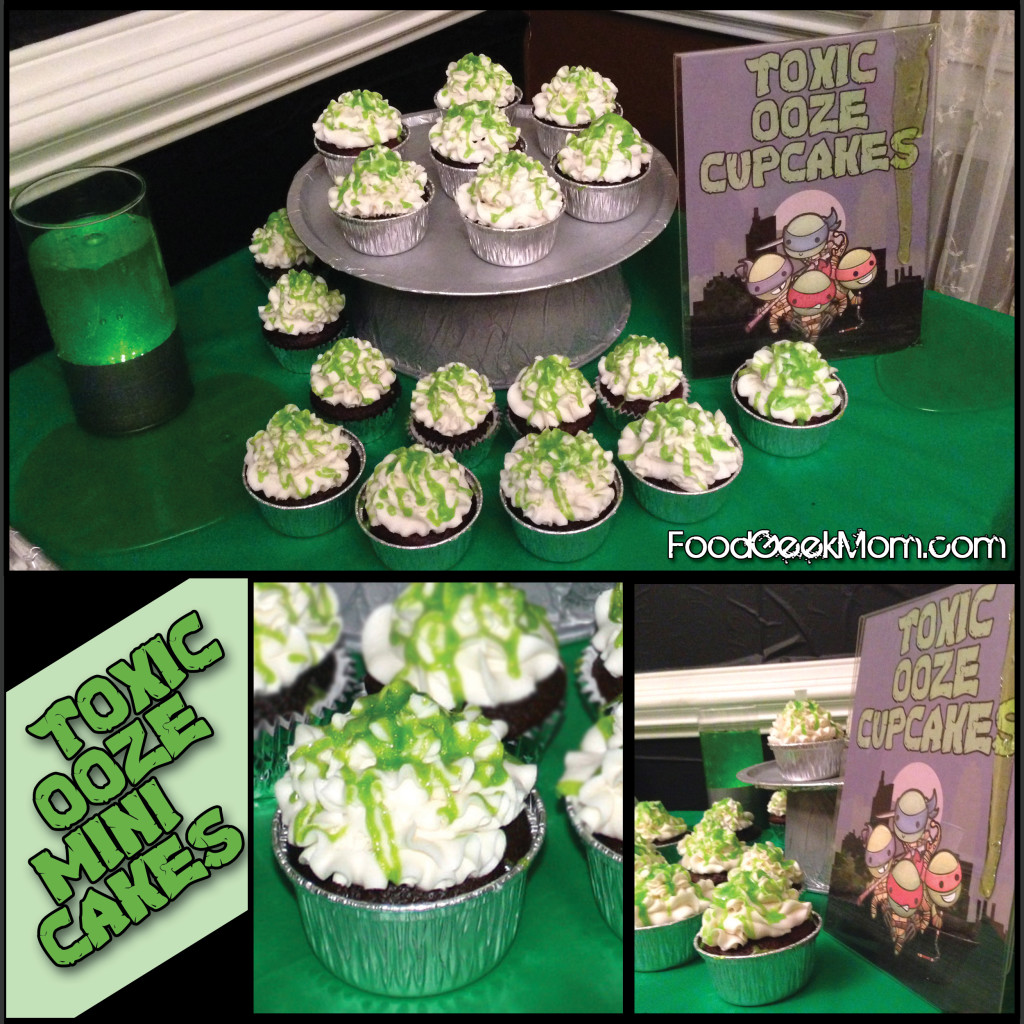 Then we moved onto dessert – cupcakes! I baked chocolate cupcakes in mini foil ramekins. They were topped with homemade buttercream and then decorated with ooze (Wilton's Sparkle Green Gel). To make the stand, I covered a angel food pan with foil and sprayed with with gray paint. I did the same for the pizza pan for the top. The ooze on the sign and jar we made. We made enough of it to individually bag it, label it and give to each kid in their goody bag too. It's made with Borax & clear Elmer's glue. I used a small puck light in the bottom of a dollar store candle jar. I used a strip of duct tape around it to match the decor and cover the fact that there as a light there. Then I filled it up with ooze and let it spill over. It was now "glowing" ooze. I used some ooze on the cake sign too. It matched the ooze on the cupcakes so well.
The party went over great and it was tons of fun! Thanks for stopping by!