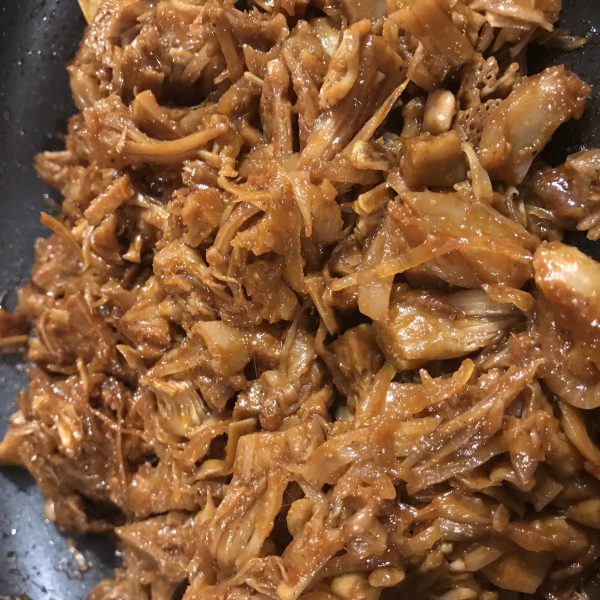 It's been awhile since i posted last. I have had zero time for life lately. I snapped a quick photo of my jackfruit BBQ cooking today and a friend asked for my recipe. AS one who looks up recipes on the internet, reads them all, and then just does whatever she wants without measuring, I find recipes quite hard to write up. I am teaching my boys how to cook on the fly though and they are rocking it! Oldest can now make my all day sauce (which i like to eat with a fork), and youngest can make minestrone soup – neither has an actual recipe.. it's all on feel 🙂
Anyway, I did sort of measure-ish some stuff (measuring makes more things dirty) in the way I do with hands and by feel and this is pretty darn close to what I actually did. Hunter & Cole loved it. Owen barely tolerated it but he's weird so you can't go by him. Tom & I thoroughly enjoyed it. It was healthy, quick, and cheap! wooohoo!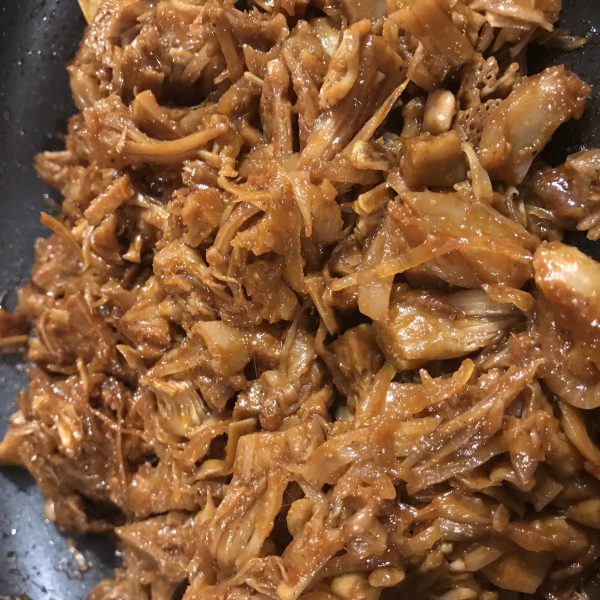 Vegan BBQ "pork"
2018-10-23 01:56:49
Serves 5
BBQ "pork" made from canned jackfruit!
Ingredients
2 20-ounce cans green jackfruit in brine
1 Tbsp. veggie oil
1 medium onion, finely sliced
2 Tbsp. brown sugar
1 Tbsp. paprika (prefer smoked)
1 tsp. garlic powder
1/2 tsp. chili powder
1/2 cup veggie broth
1/2 cup GOOD BBQ sauce
Instructions
Drain jackfruit brine, rinse under water & drain, and gently squeeze out excess brine.
Cut out the dense inner cores & throw out.
Cut into smaller pieces and partially shred the jackfruit.
In a separate bowl, mix together brown sugar, paprika, garlic powder, and chili powder.
Add drained jackfruit and stir to coat.
In a large pan, heat the oil over medium heat.
Add the onion and cook until translucent (about 5 minutes).
Add jackfruit and cook, stirring frequently, until the jackfruit starts to get brown & caramelize (another 5 minutes).
Add veggie broth & BBQ sauced stir.
Reduce heat to a simmer and cook uncovered for another 30 minutes stirring occasionally. When stirring, break up the pieces of jackfruit until all "shredded". 
Add more brother or BBQ sauce as needed.
Notes
Use a good quality and tasting BBQ sauce. It makes the dish much better.
Food Geek Mom https://www.foodgeekmom.com/