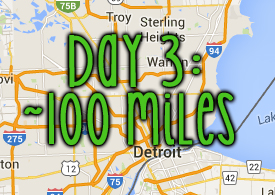 Detroit. That's Day 3 In a quick nutshell. We stayed just north of it, spent the day in it, and then stayed again just west of it.
We started the day off by going to the Ford Piquette Avenue Plant. I can actually go on for hours about how amazing this place is but I won't. I will highlight what impressed me the most. (1) The guide: there doesn't appear to be much in the way of staff here and that's okay. The tour guide was so passionate and sweet. He genuinely loved giving those tours and teaching people about the history of this Ford plant. It made the tour that much better. (2) the plant itself: the building is what it was. The machinery and all that is gone but the original paint and signage and all that is there in its rustic glory. I wanted to move into this space! We even took the cargo elevator (one used to get the assembled cars down & out of the building) to move up the floors. Was pretty wild. (3) The collection: the history of Ford was well represented right here. They have such collectibles that it is just stunning! We even got to see on of the Ford's actual vehicles… a 60's Stang that was custom painted (only car ever in that color) and designed just for them. The Ford's recently had a party there and they brought this car in and it hadn't been brought back yet so we got the pleasure of seeing it which made my 3 boys very happy. (4) Price: kids are free. I used the D-Pass which you can get online for free and it saves you 20% off admission at some local places, this being one of them. It cost us $16.00 for all 5 of us and the tour lasted 2 hours! It was great! The tourguide said it's a fairly new museum and some days they don't get any visitors, but Detroit is putting back in the trolley line that they ripped up in the 1950s. Once that is up and running, there will be a stop a block away and the foot traffic from that will bring more people. So, my advice to you is go now! Go while there are hardly any people there so you can have the same intimate experience as we had (we did have other people on the tour with us but not many). For me? This was one of the best parts of the trip.
About a 5-minute drive from the plant, we arrived at the Detroit Historical Society Museum. Detroit has an interesting history that I wanted the kids to know. Detroit is on its way to getting back on its feet but I wanted them to see what it was in its heyday and what happened and make sure they saw the good. Bonus? This museum is free! It's a fairly large museum too! main floor, basement, second floor… interactive exhibits. As you know, we do many museums. This has to be one of the best on local history. They really did a great job! Of course Detroit history has cars in it. They had a mock assembly line where they would put the body on a chassis. the kids loved this. It was great to see in person. That was probably the highlight from the 1st floor. The basement was pretty cool. They turned it into old Detroit.. I mean old as in cobblestone-type streets and gas lamposts. It has old stores, most you could go in: a merchantile, a pharmacy, dentist, bike store… It was very cool. Then at the end there was a train layout. Owen had the most fun here. It was very large scale and you could make it turn from day to night. trains look pretty cool at night as do their accessories. 🙂 Then onto the 3rd floor where they did fashion through the eras and went through local history that way. There was a lot more to the museum, but those were my stand-out parts.
Then we took a longer way to get to our next destination.. we wanted to drive through actual streets to get to it and see more of Detroit. Even if it's not the best city to be in (I'm told one wrong turn…) I liked it. I liked teh look and feel of it in general. Just sayin'. Our next stop was on Belle Island. It's an Island just off of Detroit. I think if I were a good golfer or an awesome batter, I could wail a ball to Canada we were so close but alas, I'm not (plus they probably from upon such things). Belle Island Park seems liek an awesome place to be. It was a hot Sunday so it was pretty packed. Plus there was some sort of event going on and they have construction and it was a drivign mess but we got our spot, contrary to what Tom says, pretty close to our actual stop – Dossin Great Lakes Museum. I will hold most of my comments about how I have NEVER seen so many adults acting like they were Veruca Salt and entitled to so much going as far as to push my kids out of the way and we've been all over. If we take that out of the equation completely, this ia nice small museum. Again, it's free. It's nautical history. Lots of hands-on stuff for kids to do in that small area. Great views of the waterway and Canada. Staff is nice. Not to omuch else to say – it is rather small but a nice free stop.
From there were drove around Detroit a little just to see more of it. We're kind of weird like that. Then we headed back north to Morley Candy Makers – The Home of Sanders Candy in Clinton Twp. They candy making part was closed but we've seen that already so it wasn't a huge loss. We got some really good choclate, cookies, and brownie. Their stuff is a bit pricey but most of it is worth it. The cookies are a dollar a piece and are thick and filling so they are a score!
We met my friend and her family for dinner at Camelia's Mexican Grill in Farmington Hills. The food was very good Mexican food, I must say. My dear friend graciously let us stay with her (she lives in Farmington Hills). I have known her since I started school way back forever ago. We ended up at the same college so Tom was able to have met her. I hadn't seen her in well, at least 15 years and obviously never met her hubby or kids. We hung out like we've always been in touch. Her husband is so sweet and they were both a pleasure to be with. I am grateful that I got to spend time with her. Her kids… Owen and her oldest are teh same age and they became like instant BFFs. It was adorable. Those 2 together would cause a lot of cute trouble. All in all, it's a shame we live so far apart as our families worked nicely together and they are good people. I was too into hanging out with her to even take pictures. That was a complete my bad. 🙁
Money spent? Gas, Ford Plant, Candy, and dinner