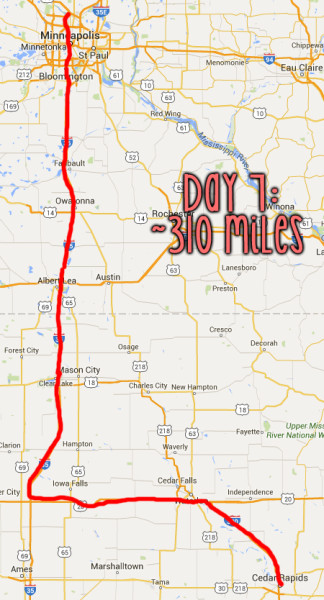 After a late start due to enjoying our time with S & her family, we went to the nearby Mall of America. How can we not go to the largest mall? We can't! My kids are still clueless on the magnitude of the actual mall. This place is so huge and it's only getting bigger. They are building a hotel INSIDE the mall… not outside and attached but lIke inside the mall. It's insane, but in the coolest way ever!
So we get to the mall and just start walking and I pointed out that they should look over the edge of the railing ahead. there they saw the amusement park inside the mall. They were floored! They knew we couldn't afford the rides but were happy to be able to walk around. So we went down 4 flights to the main level. We first came to the Peeps store – yes, the marshmallow candy Peeps have their own store. Oh my! OC wanted everything there! We told him before we left thinking he would find something else somewhere to spend his money on. Well, we walked around the Nickelodeon Universe theme park and the boys saw some characters that we took pictures with. The characters here are even more interactive than Disney! They were amazing and took such time with the kids which is pretty amazing being you don't have to pay to get into the park. So for free we were able to meet a WonderPet, Kai-Lan, SpongeBob, and Mikey from TMNT. Very cool!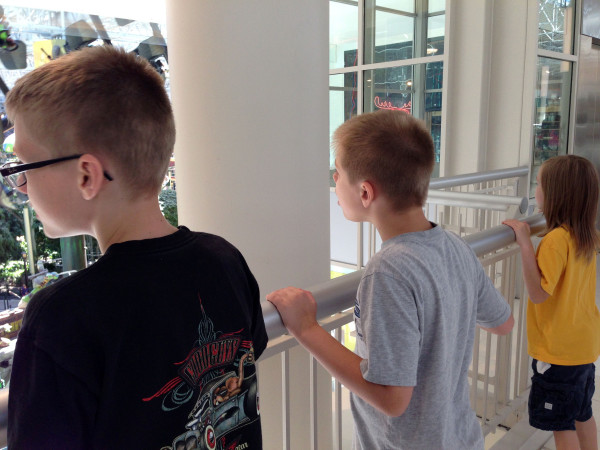 There is a Lego store which would probably be cooler if we didn't have one right here near home. they had some bigger Lego builds outside of the store, but nothing we haven't seen at like Disney or one of the Cons, really.
Cole found a Bayern-Munich jersey for $30 bucks and he has happily worn that thing so many times already! He loves professional football (soccer).
We ate lunch at Dick's Last Resort. It was every bit as enjoyable as we hoped. 2 funny things happened- (1) We all ordered water. yes, we were being cheap and he called us out on it and gave us each a glass of ice instead. We informed him that the kids enjoyed that much better anyway and Cole eats ice all day long anyway and he actually made lunch more enjoyable. His joke backfired! Whoops! (2) he broke character. There was a table where the kids were downright disrespectful and I think the parents thought the waiter's responses were all part of the act. They weren't. he thanked us for having well-mannered kids. We kind of shot-the-breeze with the guy for about 5-10 minutes NOT in character. It was okay though… was at the end of the meal and the guy was really cool.
So before leaving, we went back to the Peeps store to let OC buy his stuff. Can you tell he loves yellow AND peeps? 🙂
Then we had a long drive to our hotel for the night… 290 miles long driving through nothingness. borrrrringggg!!! Hotel for the night was Country Inn & Suites of Cedar Rapids North. The Arby's next closed right before we got there so we ate McD's where Tom decided to get crazy with Ronald while he waited for food. Dork! 🙂 Breakfast again, here before we were on our way for a more exciting Day 8!