We ate breakfast at the hotel and were on our way to our first stop. Today was a day of factory tours.
We pulled up to the Jelly Belly Tour in Pleasant Prairie, WI. Let me say first that this is not the MAIN factory – that is in California and is definitely on our bucket list of places to visit someday – this is one of their warehouses. We stood on line and waited about 20 minutes until they had us put on silly hats (said they were for sanitary purposes, but we were in a warehouse not near actual food so silly). We then got loaded onto a tram where we watched video screens at different stops on the tour. Granted it was free, but oe of the most tours we have ever taken. Plus side? We got a free bag of Jelly Belly beans at the end (each person). Then, we went into the store where you can sample any flavor you want. We got giant bags of Flip Flops (their messed up beans) for real cheap and we were on our way to the next stop since we had an appointment at 1:30.
Well, we got to the area with time to spare so since we saw Miller Park in our sightline, we decided to go there and we got out, looked in the store and looked around wherever they would let us look for free. It's a nice looking park. Team store has some of the best merchandise I have seen for any sport but seriously expensive. Seems like a cool place if you like baseball, though. 🙂
That ate up enough time where we only had to wait about 15 minutes or so at our next destination: Palermo's Pizza Tour in Milwaukee, WI. It was a good tour. You watch a video first them they bring you to an overview of the plant where you can watch most of it all being done. (Hello dancing meat sticks!). The downfall? We had a group of campers that ranged in age from 6 to about 11 and there were I'd say 30 of them to 3 counselors who would rather talk to each other than control the kids. Our seats were kicked on purpose over and over as 1 kid kept making rude noises at my kids and the counselors did NOT care. It was infuriating for us and the other 2 families there. Besides that, it was great! After that, you go into the restaurant for some fresh made pizza which is "complimentary" with the tour. You get one massive slice each along with a can of soda so you're full afterward. I say "complimentary" because yo do pay for this tour. It's $10.00 per person but you get lunch AND a t-shirt- only catch was they had limited sizes. All my kids ended up in the same size and Tom & I ended up in the same size as well. Normally we all wear 4 different sizes. Oh well). They are cool shirts and our bellies were filled and we had a great time.
We next drove a few more minutes away to Miller-Coors Brewery for a tour. This tour has a lot of walking in case you are wondering. It's pretty cool though. The factory there is old and walking the streets and in & out of buildings learning history and beer making was very cool. There was one area that was incredibly hot but after that we walked across the street to a spot that was amazingly, naturally cool. There are "caves" at the Miller Brewery and it's pretty darn awesome. It definitely a great tour and takes its time; Guide was great and the whole experience is nice. Then, they brought us to their Biergarten where everyone got a 6-8 oz cup of fresh Grapefruit Leinenkugel You then had 3 more times you can get refills on one of the 6 choices that they had available. Kids got a choice of Pepsi products. they had pretzels too. It was really nice.
We then drove up to Green Bay. We were going to be spending our night there with one of my friends and Tom (and I) had a friend up there too, MB. He helped us decide where to eat; we decided on Kroll's West. It's a total local place – been around for 80 years and is across from Lambeau Field! We met MB there and he suggested our food. he told Tom to get the Spotted Cow beer which you can only get in WI (Tom later got a 12-pack of said beer). MB bought us all a round of Baumeister Root Beer (a local old-fashioned bottled root beer). Of course I got fried cheese curds. I also got their brat with how the locals liek to eat them.It was a nice evening and I wish we could have spent more time with MB (or met his family)… we hadn't seen him since wedding nearly 14 years ago! We had to cut time hanging out a little short since my other friend's daughter was anxiously awaiting our arrival!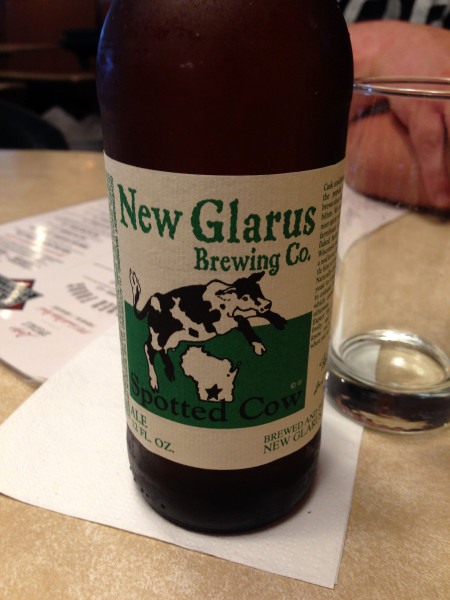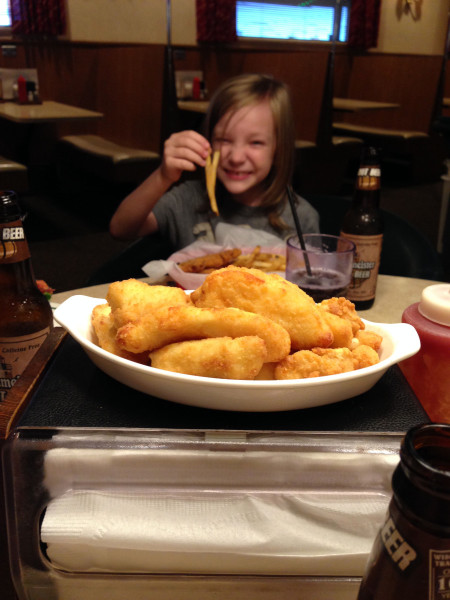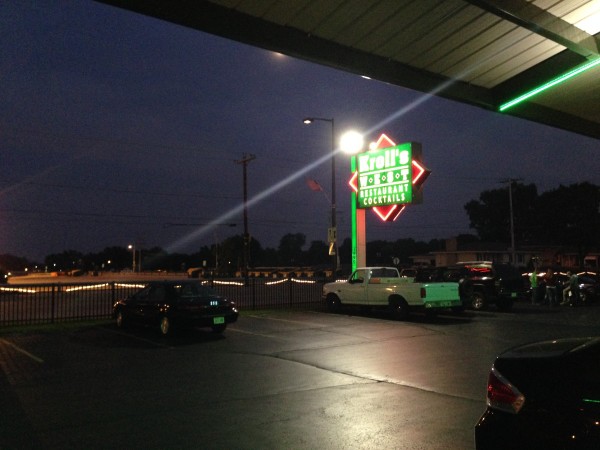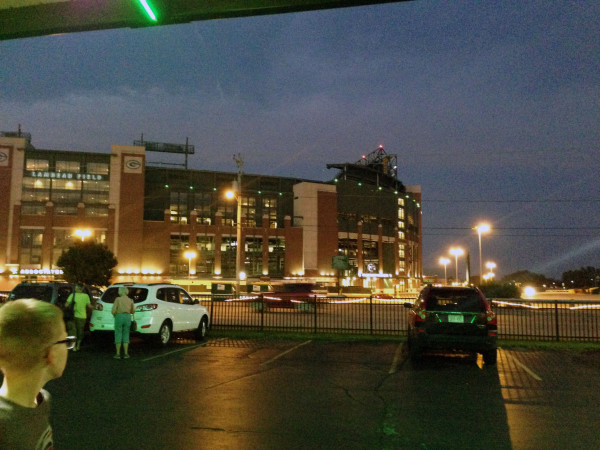 We were off again for a few minutes drive to De Pere, WI. We arrived and her daughter, S, was so excited! her and the boys drew picture after picture for each other. it was cute & sweet! We didn't get nearly enough time to spend with them. 🙁 S wanted to crash on the floor in a sleeping bag with my 3 but maybe if they come visit us, we can make that dream come true. I was sad to say goodbye to my friend and her sweet daughter but we had to get on our way.