I am always at a loss with what to do with ground beef. My kids aren't picky really, but I guess they kind of are. There is usually some kid who wont eat what I make. It's rare to get all kids to like the same thing.


Tom came home with red sticker-ed beef. I froze it and pulled it out 2 days ago to thaw in the fridge. I decided to make a taco thing with it. I've moved on from just 'make-your-own-tacos' to taco salad like tom's Aunt Dot makes. I wanted  something different this time. I was thinking kind of like a Mexican dirty-rice.. maybe served over a bed of lettuce. I went to the store, bought my stuff and came home to prepare. I looked online maybe for a suggestion to what I had in my head and when I typed in "taco rice" in google, it came u with Taco Rice. Apparently, it's what I was going to make, the way I was going to make it but it's somehow a Japanese dish. Go figure!


Anyway, the results were awesome! Everyone loved it and it was easy and cheap! Could it get better than that?


Ingredients:


     1.5-2 pounds ground beef (more if it's higher fat, less if it's lean)
     2 packets mild taco seasoning
     1-1/3 cup water
     1/3 cup salsa
     6 cups cooked rice
     1-1/2 cups shredded Mexican Mix cheese
     1 head of iceberg lettuce, in small pieces
     Sour cream


Directions:
Cook beef and drain.

add both seasoning packets and water.

bring to boil then let simmer for 5 minutes. There will be liquid in pan which is a good thing.

in a large bowl add rice, meat mixture and mix really well.

add salsa and mix

add cheese and mix.

if it needs to be rewarmed, add to original pot on medium and heat and stir for a few minutes.

put lettuce in bowl, then a scoop of rice mix, then a dollop of sour cream!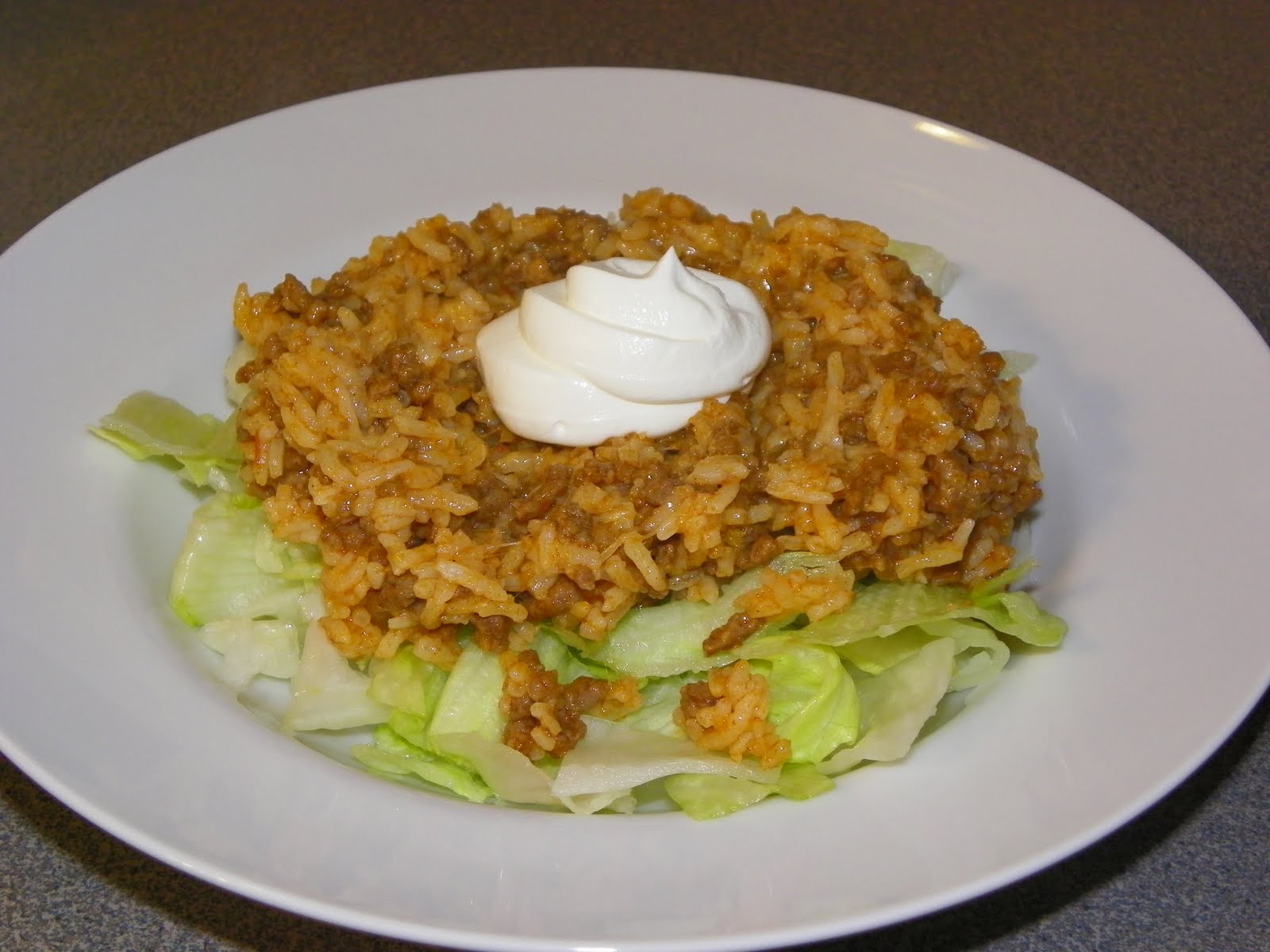 Alternately, if you heat a flour tortilla in a pan until it starts to get crispy, then squirt on some sour cream, add a scoop of rice mix and fold.. it's like the best grilled stuffed burrito form Taco Bell. Just way better! 🙂