I like oatmeal cookies. Raisins are okay in them, but if the cookie is good and "oaty" then it doesn't need anything else in it. I've had some good oatmeal cookies but haven't been able to get the super oaty taste I've been after at home until now. Only change I'd make to this recipe is to try half shortening instead to cut down on the buttery taste. While I love butter taste, I like the oats to shine.


These are chewy on the outside and soft inside. They really are an amazing cookie. You can easily add in raisins, dried fruit, chips, whatever but I like them plain the best.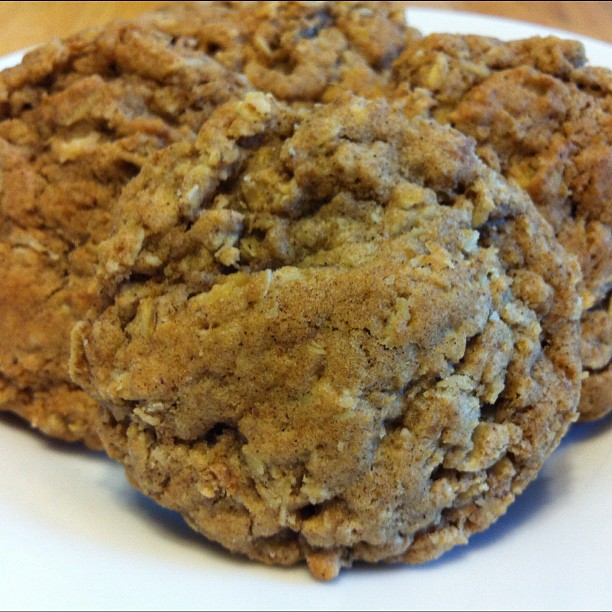 Soft Oaty Oatmeal Cookies
2015-01-02 15:02:18
Ingredients
1 cup butter, softened
1 cup white sugar
1 cup packed brown sugar
2 eggs
1 teaspoon vanilla extract
1 cup all-purpose flour
1 cup whole wheat flour
1 teaspoon baking soda
1 teaspoon salt
2 teaspoons ground cinnamon
3 cups Old fashioned oats (slow cooking oatmeal)
Instructions
Cream together butter, white sugar, and brown sugar.
Beat in eggs one at a time, then the vanilla.
Combine flour, baking soda, salt, and cinnamon.
Add the dry ingredients into the creamed mixture and mix.
Mix in oats.
Cover, and chill dough for at least one hour (preferably about 6).
Preheat the oven to 375 degrees F.
Lightly spray cookie sheets with baking spray.
Scoop dough with a 1" scooper (tablespoonfuls) & place 2" apart.
Bake for 9-11 minutes in preheated oven.
Allow cookies to cool for 5+ minutes on the cookie sheets before transferring to cooling rack.
Food Geek Mom https://www.foodgeekmom.com/