My moms used to make hamburger pie often. It's easy and cheap and filling. Plus everyone loved it. It was from her BHG red gingham-checkered binder full of BHG recipes. Now all these years later, I'm making the same I always loved. Of course, me being me, I change up a few things and make it my style. Also great to make ahead and bake at dinnertime. Less mess, less stress.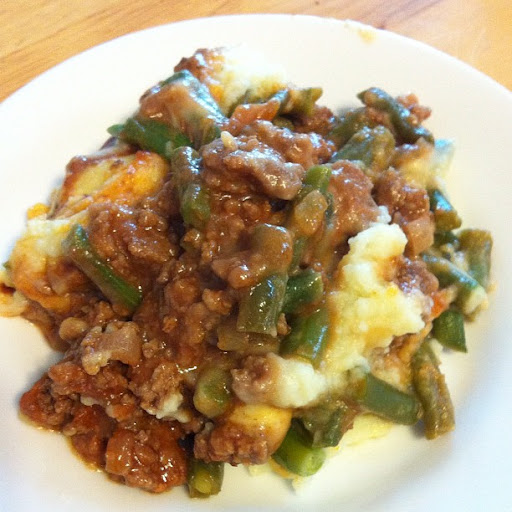 Hamburger Pie
2015-01-02 15:07:29
Ingredients
1-1/2 pounds of lean ground beef
1 small onion, diced
1/4 teaspoon salt
1 16-ounce bag of frozen cut green beans, thawed & drained
1 Homemade "Condensed Tomato Soup" or 1 can of condensed soup (10-3/4 oz)
4 servings mashed potatoes (I use instant following directions but adding 1 egg to the mix at the end)
enough cheese to cover top
Instructions
In a skillet, brown meat & cook onion until brown & tender.
Drain off fat (if there is any).
Add salt (and pepper if you fancy that).
Stir in soup.
Pour into bottom of baking dish.
Add Green Beans on top.
Spoon mashed potatoes over the beans and spread to even over casserole dish.
Add cheese over top of potatoes.
Bake, uncovered, in a 350 degree oven for 30-45 minutes until bubbly and cheese starts to brown.
Food Geek Mom https://www.foodgeekmom.com/