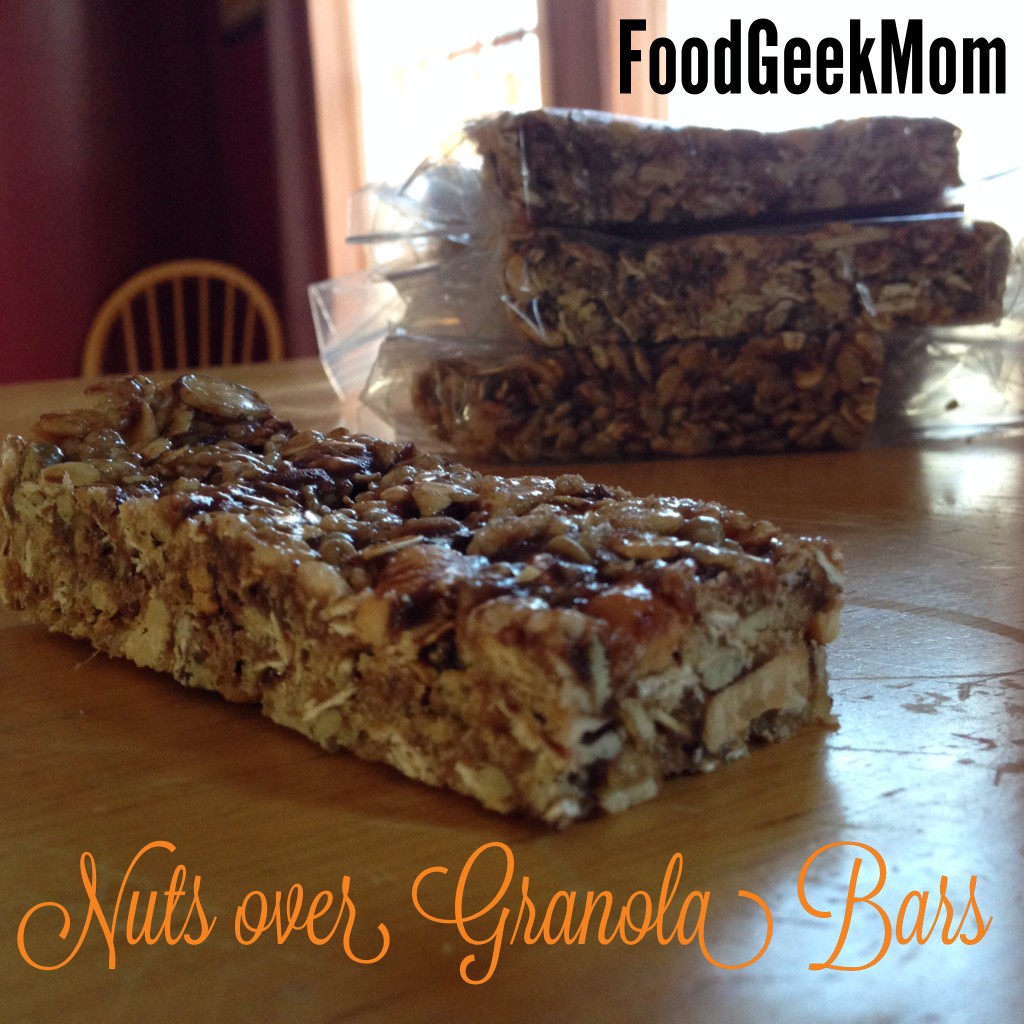 I love to make my kids snacks. I know what goes in them. I can alter the ingredients so all 3 kids like them instead of having to buy different varieties to please all. I can make them cheaper than buying them and healthier too. These are that kind of bar. Nothign fancy but a great basis to make a large variety of bars to suit your kids (or your) tastes. Lastly, these bars can easily be made gluten-free by subbing the oats for GF oats and the rice crispy cereal for gluten-free rice crispy cereal. These bars are more like granola bars when room temp but straight outta the fridge, they are crunchy & like them that way. So they are dual-textured. WIn-win!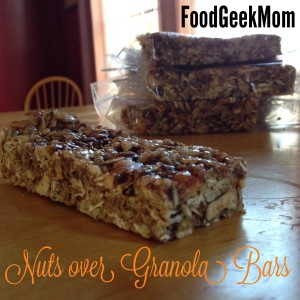 Nuts over Granola Bars
2014-04-05 22:16:41
Ingredients
1 cup old-fashioned oats
1/2 cup sliced almonds
1/2 cup cashew pieces
1/3 cup sunflower seeds
2/3 cup light brown sugar
1/2 cup honey
4 Tablespoons (1/2 stick) butter
1/2 tsp. salt
2 teaspoons vanilla extract
2 cups crispy rice cereal
1/2 cup ADDITIVE
The nuts & oat mix
1. Preheat oven to 350°F.
2. Spread the nuts, seeds, and oats on a rimmed baking sheet
3. Bake for 8 minutes.
4. Remove from oven and transfer to a medium-large mixing bowl.
5. Add in the crispy rice cereal & stir.
6. Get an 8"x8" baking pan prepared by lining with parchment or foil and greased well.
The "Glue"
1. In a medium saucepan over medium heat, bring the sugar, honey, salt, & butter to a boil, mixing until combined well.
2. Once it starts to boil, start the timer and let it boil for a full 5 minutes (until it turns into nice light brown caramel).
3. Remove from heat and stir in vanilla.
Finish it Off
1. Pour the "caramel" over the nut & oat mixture.
2. Stir until coated well.
3. Stir in your ADDITIVE.
4. Pour mixture Stir in the brown rice cereal and the cranberries until evenly coated
5. Pour mixure into preppared square pan.
6. Press mixture with damp hands (otherwise it'll stick to them) and compress the way you do with making Rice Krispy Treats.
7. Let cool until firm fully, about 2 hours.
8. Remove from pan with liner and cut into bars. You should get about a dozen.
9. Wrap each one in plastic wrap and refrigerate.
Notes
TIP: "ADDITIVE" this could be anything from mini chocolate chips to dried cherries, raisins, or whatever your family enjoys. Be creative and share what combo Y'ALL like best!
Food Geek Mom https://www.foodgeekmom.com/