There's nothing quite like taking a bite of a super ripe Georgia Peach. You need to stand slouched over because the juice quickly drips down your chin, no matter how delicately you try to eat it. It's just pure pleasure!

Living in the south makes these peaches easier to get your hands on. Oh yum! 2 of my 3 kidlets love peaches and I mean LOVE! So, we buy a lot of peaches but sometimes we dont eat them quick enough. I cook them on the barbecue. I use them in parfaits. We make smoothies. Now, I make a killer peach pound cake. It's lovely because its a nice sturdy pound cake with this sweet yet tart peaches. it's just super easy and super yummy!


Ingredients:

     1 cup softened butter
     2 cups white sugar
     4 eggs
     1 teaspoon vanilla extract
     1/8 teaspoon almond extract
     2-3/4 cup all-purpose flour
     1 teaspoon baking powder
     1/2 teaspoon salt
     2 cups fresh diced peaches
     1/4 cup all-purpose flour.

Directions:
Preheat oven to 325

Butter  2-8″ loaf pans

In a large bowl, cream together butter & sugar until light and fluffy.

Add eggs one at a time, beating with each addition.

Stir in vanilla and almond extracts

In a separate bowl, lightly whisk together the 2-3/4 cups of flour, baking powder, and salt.

Gradually stir into creamed mixture.

Coat the peaches with the 1/4 cup of flour.

Fold floured peaches into the batter

divide batter between the 2 pans and spread evenly

Bake for 60-70 minutes or until toothpick comes out clean.

Allow cake to cool in pan.

Cover in plastic wrap for softer "crust".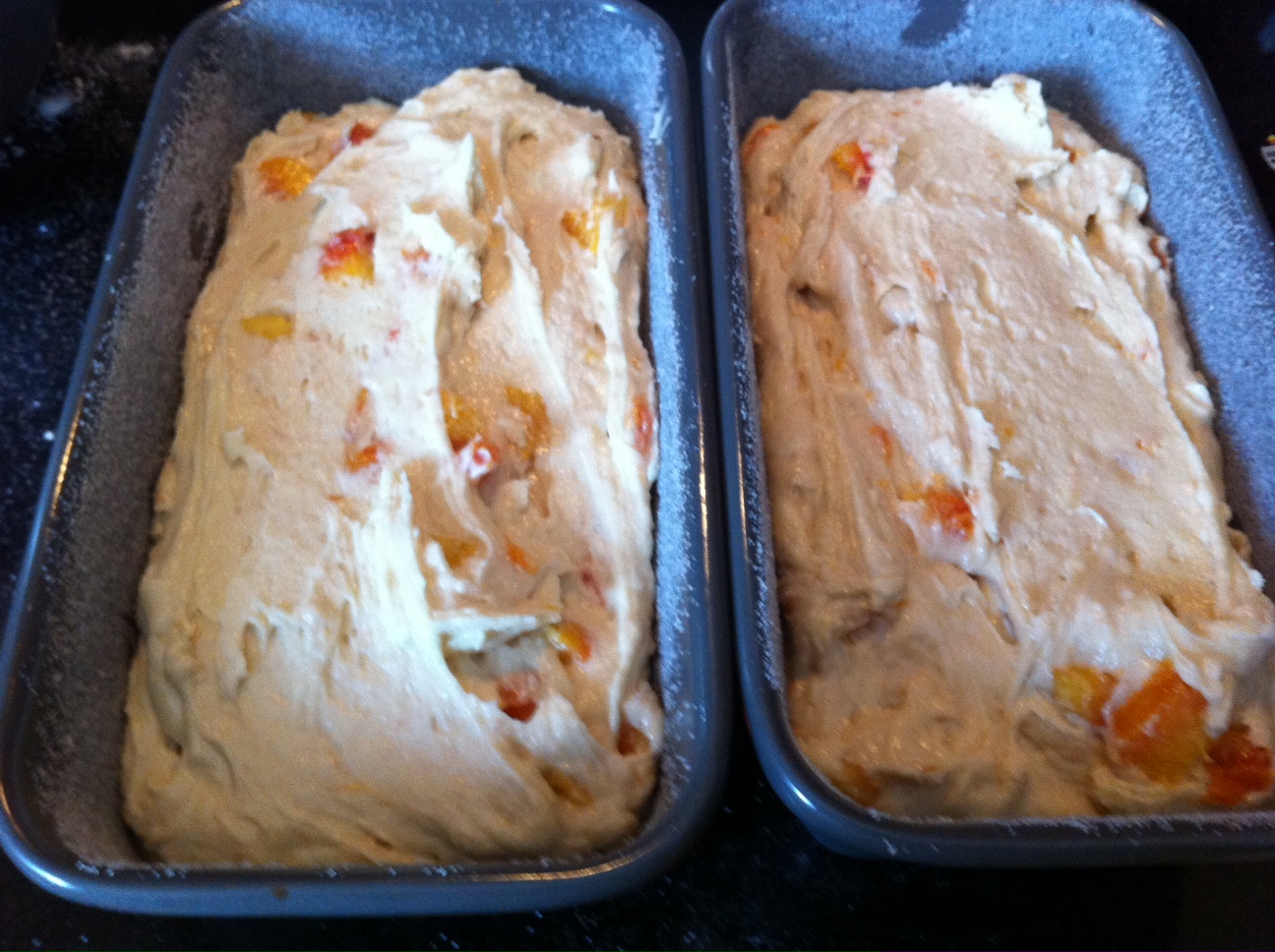 Before Baking
Done baking
first slice of heaven