Not sure where to go/what to do on Day 2, we started our drive towards Pittsburgh while I figured out if it were feasible to go there. today was going to be one of the "drive days" meaning, I apologized in advance for the long periods of sitting while we just simply drove.
After about 4 hours, we arrived at our lunch spot – McDonald's. We don't normally go to places we can get at home but this McDonald's is special as it is the Big Mac Museum Restaurant with the world's largest Big Mac replica & lots of memorabilia! The food is the same. Nothing special there but the restaurant is filled with history and interactive displays. They have a very cool indoor playground with nice seating and the very cool World's Largest Big Mac.
Back into the car we go for another 2+ hour drive to Akron, OH. This time we pull up to Thirsty Dog Brewing Company. My kids are very excited as they recognized the brand right away. We go into the dark bar of the building and sit down. The kids got some of their own brewed root beer while I got a full glass of fresh Siberian Night. Yum!We asked about the tour which they offer once a day and we only had to wait a few minutes. The guy behind the bar proceeded to tell us the history of the building and then the current company. We got shown the whole place including those beautiful full barrels, the bottling line, the old cooling room, and we went down into the bowels of the place where there is an opening that the fresh water comes right into the building! back in the day this was useful. Not quite so much anymore. Still pretty cool and historic! The whole place has a great earthy feel. We all enjoyed the tour. Tour is free, samples will cost.
Seems every trip we end up at a White Castle. We love White Castle and can't get them down here in NC. Growing up in a town with a White Castle, I miss them dearly. So, on our trek to our hotel, we stopped at one in Trenton, MI. It was cool because the Ford Stamping Plant was right behind us and Cole thought that was cool. We got a crave case that HT & OC were sure proud of. CT got chicken ring sandwiches that he adored. Anyway, White castle always yields us more than 1 meal so it's always a win-win (dinner today, lunch tomorrow after using the fridge in tonight's hotel).
Our home for the night was an Embassy Suites in Troy, MI. It was just north of Detroit in a nice area. We used some of Tom's points to get this nice place at a really cheap price. It came with a full breakfast including an omelet bar when they make them to order. Our table even had its own TV which made breakfast so enjoyable! Kids were happy, we were happy, bellies got packed with food and it was nice! The room had a fridge to keep our drinks and White Castle cold. Cole had his own pull-out (no floor sleeping today) and the rest of us divvied up the 2 queen beds. It was a nice place but very busy.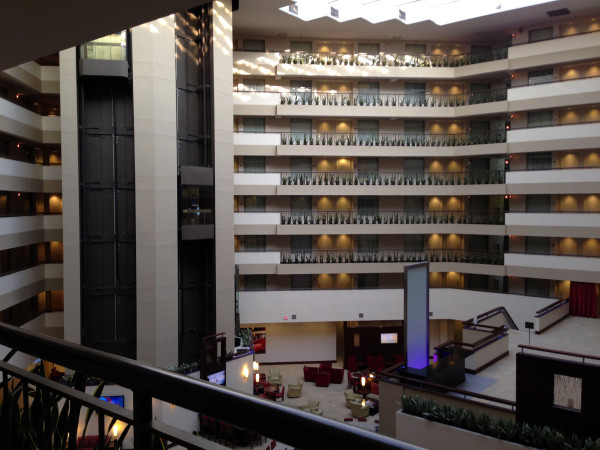 Money Spent? Gas, McDonald's lunch, a beer and a few small tastings at Thirsty Dog, and dinner at White Castle.